Continue the conversations and access content on the SATELLITE 2021 digital platform!
We're bringing sessions and networking straight to you regardless of your location! The digital platform will allow you to connect with other attendees, participate in live-streamed sessions, virtually "walk" the show floor, connect with exhibitors and sponsors, and watch on-demand content.
Already registered? Enter the digital platform

here

.
Here are just a few features you'll find in the Digital Event Platform:
| | |
| --- | --- |
| | Directly search, view, and chat with other SATELLITE participants! You can choose to video or text chat through the app, or set a time to meet during the in-person event in September. |
| | Participate in keynote and panel sessions as they're taking place in real-time and have access to all on-demand content even after the event! Access to content is determined by your registration pass. |
| | Explore the virtual exhibit hall, visit company booths, and schedule meetings with those you're interested in learning more about. |
---
Take a Video Tour of the Platform
Watch this quick video for an overview of the Digital Event Platform and learn how to build your profile, create your own agenda, network with other attendees, and more!
---
Enhance Your Networking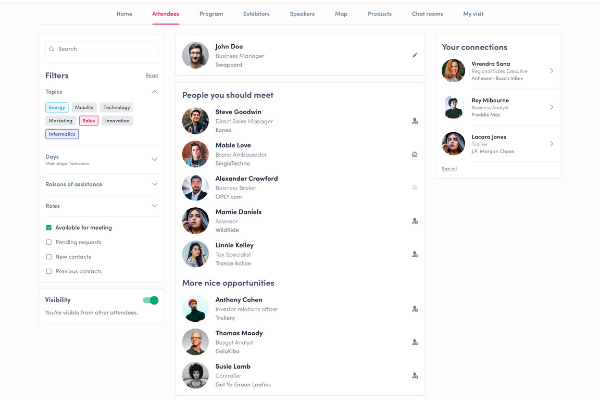 Network one-on-one and start building your connections with other attendees, exhibitors, sponsors, and speakers
Filter and find attendees by topic, meeting availability, participant type (exhibitor, speaker, etc.), job title, and more
Enjoy AI-powered matchmaking recommendations as you engage with the platform and other attendees
Schedule and join audio/video meetings directly through the event platform
---
How to Video Series
---
FAQs
When will I get access to the SATELLITE Digital Event Platform?
All attendees will receive an email with login credentials 1 week before the LEO Digital Forum (April 6-8) starts. All sponsors and exhibitors will receive an email with login credentials 2 weeks before.
Any attendee who registers after April 1 will receive an email with instructions within an hour; exhibitors will receive an email within 6 hours.
*Please Note: The email will come from noreply@swapcard.com so make sure to whitelist that email address!
Who do I contact if I'm experiencing issues with logging in?
If you do not receive an email with login instructions, or experience any other login-related issues, please contact support@swapcard.com or inquiry@satshow.com.
How do I edit my profile?
You can edit your personal profile through the upper right-hand corner of your screen (click on My Profile) or on the left side of your screen next to your photo (click on Edit). You'll also have the ability to edit your visibility to other attendees through the Attendees tab. *Please Note: Your profile information is transferred directly from your SATELLITE registration. As a result, you will not be able to update certain profile details yourself on the event platform. If you need assistance updating your profile, email us at inquiry@satshow.com.
What time zone is the programming in?
The content will be published in Eastern Standard Time (EST).
How do I customize my available meeting times?
You can customize your meeting availability in the "My Schedule" tab. You will have the opportunity to set which time slots you are available for other attendees to request a meeting with you. You can also choose to not display all empty slots and make yourself unavailable all day.
How do I network with other attendees?
Click on the Attendees tile to view all SATELLITE attendees and then click on a profile that you'd like to connect with! Once you're in their profile, you'll be able to request a time to schedule a "face-to-face" meeting.